Partnership for profit
Our BDM's have been taking EAT to the streets through our Partnership For Profit initiative for a month now. We have met businesses from Peterborough to Putney and it is encouraging to see that independents are holding their own against the corporates. There is often only a few degrees between hitting the target and striking the Bullseye and we are helping businesses hone their hit rate. We are always keen to highlight success and professionalism and we have already met one firm that stands out.
Click on the image below to download the full PDF
| | |
| --- | --- |
| Bond Residential opened their office in Chelmsford in February 2010; in less than a year they have become consistently one of the top three sales agencies in the area - with designs on greatness. Jonathan Burridge met with the owners, Steve Wiggins and Graham Hughes, to learn more about their rapid rise through the ranks in less than a year. | |
There is an air of confidence around the duo and their business. When I first walked into their office it felt like it was an agency that it has been trading for many years and there was a sense of activity and purpose. One of the first things I noted was that Bond Residential only deals with sales. "As far as we know, we are the only agency in the area that is exclusively sales and this was a conscience decision when we started. We wanted to focus on our strengths and give us another point of difference to the competition, we might move into property management down the line but we wanted to establish ourselves as a master of sales rather than a jack of all trades", said Graham Hughes.
"As far as we know, we are the only agency in the area that is exclusively sales and this was a conscience decision when we started. We wanted to focus on our strengths and give us another point of difference to the competition, we might move into property management down the line but we wanted to establish ourselves as a master of sales rather than a jack of all trades", said Graham Huhes
Steve and Graham first worked together in a Corporate Agency based in Duke Street in Chelmsford some fifteen years ago. Their careers developed and saw them both becoming Area Managers of Essex and Norfolk and Suffolk before that company was bought and merged into an even larger National firm. "We had talked about going on our own for years," said Graham Hughes, "but you get the BMW, good bonuses, you get married and job security and pensions become important. Eventually, however, I stopped believing in the corporate line and felt like I was only a messenger for the business with all entrepreneurial opportunities taken away. I missed the front line, the meet and greet, winning the instruction and making the sale. I woke up one morning and asked myself if I wanted to carry on doing what I was for the next twenty-six years, or, would I rather do what I enjoyed?"

For Steve Wiggins it was a similar story; "I had seen the market turn in 08 and 09 and the inevitable redundancies and branch closures were under-way. The merger and restructuring led to other staff being handed branches that I had built up. I was watching others earning bonuses that I felt I had created and twenty years of my work effectively being taken away from me. Frankly, I'm at an age when I didn't want to do it all again for the same thing to happen in the next downturn so when Graham made the decision to leave it felt like "it's a now or never" moment which for the first time felt right for me to leave and that was that."
The pair shook hands in December 2009 and started off from their kitchen tables. Steve recalls, "We set- up in Chelmsford because its the first major town coming out of The City on the A12, it is only twenty minutes from Liverpool Street over -ground and therefore it is a popular area for people moving out from East London. We have seen the town stand up well in previous property down turns and, fortunately, that has remained true this time round.We had our sights on an office in Bond Street, but it fell through after we had registered the company name.""In January 2010 we were out and about leaflet dropping without an office, givingout business cards with only our mobile numbers on", said Graham, "It was damn cold, snow was everywhere and we were door knocking, I think our tenacity gained us favour and our obvious coldness won us sympathy. We quickly had properties on our Books."
Steve adds, "One of the first things we did was set up a Bond Residential page on Facebook and we saw that people were finding it and looking at it a lot in our early days. It was a free, fast and reliable way for us to reassure our potential clients that we were a valid business even though we did not have an address or our own website at the time. We have a twitter account and we log all our stock as it comes on with Facebook and that sends out a Tweet. We also subscribe to all the main portals. The Internet and social media are hugely powerful and we are only touching on its potential."
Which portal is the most effective I ask? "Rightmove is the leader for purchaser enquiries by a country mile", says Steve, "although Zoopla is giving us far more vendor leads."
By the end of January 2010, Bond Residential had four properties on its books, Graham laughs, "It was a relief to close those first instructions as neither Steve nor I had been at the sharp end of sales for more than seven years." By October 2010 the company was selling, on average, twenty properties a month and had firmly established itself as a player in the area.
Bond Residential came to EAT's attention after our BDM visited them as part of our Partnership for Profit initiative. What struck us was how easy it was to speak to one of the owners, in fact, it was Steve Wiggins who answered the first call. "We have seen other agencies grow with the owners pushing forward their staff as they take a back seat. We believe that agencies are personality led and continuity is essential. Our clients and buyers benefit from always being close to the owners. The team works very closely together and we understand how each of us thinks, so the experience for our clients and buyers is uniform. As owners, we are in the front line and never too busy to take a call."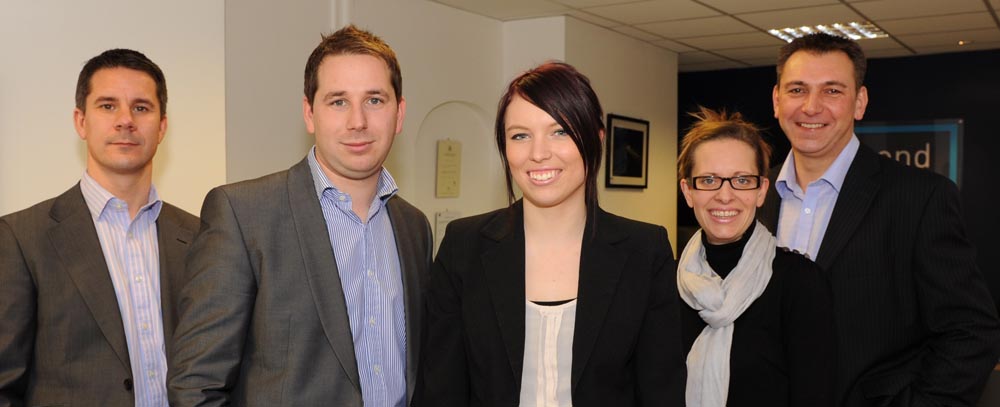 In April 2010 with their marketshare increasing daily Graham and Steve decided the time had come to expand the team. After several discussions they highlighted the individual felt was right for the business and approached Lee Mann about joining them in their venture. Having both worked with Lee for a number of years they were confident that he was someone who shared their work ethics and passion about Customer Care and the business itself. Like them he too had also become disillusioned with corporate estate agency, so when given the opportunity to become part of the business he grabbed the opportunity with both hands and joined at the beginning of May. The duo both agree that his appointment was a critical factor in their subsequent success and has led to them recruiting two more members of staff before the year end.
To celebrate their first year anniversary the pair have launched a competition offering a prize of a zero fee sale for a vendor who instructs in January and February, the prize draw being made by the Mayor of Chelmsford, Alan Arnot. "We sponsor an under eleven's and an under seven's football team and we hope to support more local charities this year. The community is obviously important to us and as we grow we hope to continue to give back" Says Steve.
With the mile stone of a year's trading under their belts, what are their future plans?
"We are still focusing on the short-term and our plan is to be number one for sales in the area, we have been there a few times, but "top three" is not good enough for us," smiles Graham. "We are formalising our mortgage broking arrangements and we will continue to manage our panel of solicitors very tightly."
Steve adds, "The big decision we have to make is whether to start opening new offices, or, move into a multi-discipline offering, or, both. There are ancillary products we can sell in and we are always looking for new opportunities, however, offering multi-services can become "corporate" – with a focus on squeezing every penny you can out of a sale, rather than offering something of true value to your client or the buyer."
Whilst the pair may not have firmed up their plans for the future, what is certain is that Bond Residential has flourished in a difficult market and has marked their territory in a town that has a high number of agents. Certainly the corporate background of Steve and Graham has played a large part in their rapid achievements and as individuals they display the experience and understanding of the estate agency market, customer service and business management that is needed to create something new and fresh in such a demanding market.